---
 2015 Outstanding Achievement Award: Tracy and Laura Hickman
---
International and NYT Best-selling fantasy author Tracy Hickman is best known for the DRAGONLANCE series of fantasy novels and has over sixty books in print. Tracy was born in Salt Lake City, Utah. After graduating from high school, he served two years as an LDS missionary in Hawaii Indonesia. He married his high school sweetheart, Laura Curtis, within four months of his returning to the United States. They have been married ever since and are the parents of four children and five (soon to be six) grandchildren.
Tracy had many jobs before joining TSR (game publishing company and the publisher of Dungeons & Dragons) in 1982, including working as a supermarket stockboy, a movie projectionist, a theater manager, a glass worker, a television assistant director and a drill press operator in a genealogy center. With TSR, Tracy was involved with the publication of some of the best known adventure modules for the Advanced Dungeons & Dragons game. That job lead to Tracy's association with Margaret Weis and their first publication together: the Dragonlance Chronicles. Since that time in 1985, Tracy has authored or coauthored over sixty book titles.
In 1999 Pyramid magazine named Tracy Hickman one of The Millennium's Most Influential Persons "at least in the realm of adventure gaming." The magazine stated that Tracy Hickman and Margaret Weis are "basically responsible for the entire gaming fiction genre." Hickman was inducted into the Origins Hall of Fame in 2002.
For over 30 years, author Laura Hickman has been writing and creating fantasy games and novels with her husband, Tracy Hickman. They are pioneers of New Media Publishing and carrying their message of story to the world. The Hickmans are innovators in the publishing industry, and have paved the way in out-of-the-box publishing methods.
Tracy and Laura have attended conferences and conventions all over the country, and began teaching seminars and workshops on creative writing at the Writing and Illustrating for Young Readers conference. In 2010, they began offering their writing course online at their Scribe's Forge website.
---
 2015 Lifetime Achievement Award: Marsha Ward
---
Marsha was born in the sleepy little town of Phoenix, Arizona, and grew up with chickens, citrus trees, and lots of room to roam. She began telling stories at a very early age, regaling her neighborhood friends with her tales over milk and homemade sugar cookies. Marsha works with other writers as a mentor, creative consultant, editor, workshop presenter, contest judge, coach, and teacher. In 1986 she founded American Night Writers Association, Inc. (ANWA), a network for LDS women writers. ANWA holds a yearly writers conference, regular writing retreats, and has chapters around the United States.
Marsha was the facilitator of the group in the early years, became the first president, and recently retired as the chair of the Membership Committee and a member of the Board of Directors. She has served on the Executive Committee of LDStorymakers, Inc., the guild for LDS authors; and in leadership capacities with other writers' associations.Marsha makes her home in a small hamlet beneath Central Arizona's fabled Mogollon Rim. She has four living children and seven grandchildren. When she is not writing, she loves to travel, give talks, meet readers, and sign books.
---
2014 Outstanding Achievement Award: Andrew Hall
---

Andrew Hall is an Associate Professor of Japanese History at Kyushu University in Fukuoka, Japan. He grew up in Whittier, California, with parents who lined the walls with history books and novels. Andrew took history as his profession, and reviewing literature as his hobby. He attended BYU, where experiencing Eugene England's Mormon Literature course sparked an interest in following Mormon fiction.
He participated in the Association for Mormon Letters email discussion group in the 1990s while working on graduate degrees in Japanese colonial education history at the University of Pittsburgh. In 2000 he began writing an annual "Mormon Literature Year in Review", going over the state of the publishing field, and noting some of the best reviewed and best selling Mormon-authored fiction in both the national and Mormon markets.
In 2007 he shifted his reviews to the A Motley Vision and the AML Dawning of a Brighter Day blogs. In 2010 he started writing what became the This Month in Mormon Literature column for Dawning of a Brighter Day. These columns collected news about the publishing industry and reviews of prose fiction, poetry, creative non-fiction, theater, and film created by Mormon artists.  He received a 2011 Association for Mormon Letters Special Award for Literary Journalism. Meanwhile he taught history at the University of North Texas, and then since 2010 at Kyushu University. His articles have been published in The Journal of Asian Studies and Kyushu Shigaku. Andrew and his wife Jenifer have four children, all of them bilingual in Japanese and English.
---
2014 Lifetime Achievement Award: Margaret Blair Young
---
Margaret Blair Young has written and published much literary fiction, beginning with her first sale to The Southern Review during her university studies. With Darius Gray, she coauthored Standing on the Promises, a trilogy about early Black Mormon pioneers.
She has written and published a variety of literary works, including her novels (House Without Walls, Salvador, and Heresies of Nature), two short story collections (Elegies and Love Songs and Love Chains), and two plays. I Am Jane, a play about Black pioneer Jane James, was produced throughout the U.S. Dear Stone was loosely based on her sister-in-law, Nancy, who had M.S. and died on the opening night of the play.
Margaret has contributed to other film projects, including a short documentary about Jane, and a longer documentary collaboration with Darius, Nobody Knows: The Untold Story of Black Mormons. Her next project is a feature film called Heart of Africa.
Her work has been recognized with four awards from the Association for Mormon Letters: for short fiction, drama, and two for novels. In 2003, she won Utah's Best of State medal for fiction. She has received many other awards, including several from the Utah Arts Council: a publication prize, first place novel, first place collected fiction, and first place short story.
She taught in the English department at Brigham Young University for thirty years, influencing thousands of students and young writers, and she served as president of the Association for Mormon Letters. Margaret wants her epitaph to say merely, "She loved the Lord."
---
2013 Outstanding Achievement Winner: Rachel Ann Nunes
---
---
2013 Lifetime Achievement Winner: Blaine M. Yorgason
---
---
2012 Outstanding Achievement Award Winner: Carol Lynch Williams
---
Carol Lynch Williams is the award-winning author of more than 20 novels for middle-grade and young adult readers. Her titles include THE TRUE COLORS OF CAITLYNNE JACKSON, IF I FORGET, YOU REMEMBER, THE CHOSEN ONE, GLIMPSE, MILES FROM ORDINARY and WAITING. Her newest book, THE HAVEN, is due out this year. As the founder of WIFYR (Writers & Illustrators for Young Readers Conference), Carol has brought together agents, editors, and writers for years and enjoyed many success stories. The week-long conference takes place each summer in an intensive but rewarding learning environment. Carol has an MFA in Writing for Children and Young Adults from Vermont College and teaches creative writing part-time at BYU. Her biggest successes, though, are her five daughters.
---
2012 Lifetime Achievement Award Winner: Lael Littke
---
Lael Littke is the author of more than forty books in both the national and LDS markets. Most of her books are written for children and young adults, including Haunted Sister, Lake of Secrets, and Searching for Selene. TRISH FOR PRESIDENT, SHANNY ON HER OWN, and LOYDENE IN LOVE were on the New York Public Library's "Recommended List for Teenagers." BLUE SKYE received the "Notable Book" award from the Southern California Council on Children's Literature and PROM DRESS garnered the dubious honor of being "the book most often stolen" at one school library. She also has three women's novels to her credit, co-authored with Carroll Morris and Nancy Anderson: Almost Sisters, Three Tickets to Peoria, and Surprise Packages. A native of Mink Creek, Idaho, she graduated from Utah State University and did further studies in writing at City College of New York and UCLA. She has taught writing classes at Pasadena City College and UCLA.
---
2011 Outstanding Achievement Award Winner: Jack Weyland
---
Jack Weyland is the best-selling author of young-adult fiction for the Latter-day Saint market. In fact, the modern genre of Latter-day Saint-themed popular fiction is one he is largely responsible for creating with his overwhelmingly popular novel Charly. His interest in fiction began with a correspondence course in creative writing taken during a summer at BYU where he was doing research work. Since then he has published more than two dozen books, and over fifty of his short stories have been published by the LDS Church magazine The New Era.
Born in Butte, Montana, Jack received a B.S. degree in physics from Montana State University and a Ph.D. in physics from BYU. Currently he teaches physics at BYU-Idaho. He formerly taught physics at the South Dakota School of Mines and Technology. Jack and his wife, Sheryl, are the parents of five children and have four grandchildren. His hobbies include racquetball and singing.
---
2011 Lifetime Achievement Award Winner: Douglas Thayer
---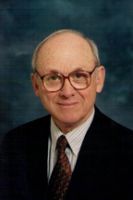 Douglas H. Thayer is considered one of the foremost fiction writers exploring contemporary Mormon life. In 1946, Thayer dropped out of high school to join the army. After his service in the army to Germany, and later a 2-year LDS mission, he obtained an English degree from BYU. He went on to Stanford to work on his doctorate (dropped out), then University of Maryland (dropped out). He finally decided on what he really wanted to do—to get an MFA in creative writing (University of Iowa). Thayer has taught English and creative writing at BYU for 54 years. His specialty in writing is traditional, realistic fiction, earning him the title of the "Mormon Hemingway." Thayer has published three novels, dozens of short stories, several essays, a memoir, and is the recipient of many literature awards, including numerous DIALOGUE prizes for the short story and essay, the P.A. Christensen award, the Association for Mormon Letters Prize in the Novel, the Karl G. Maeser Creative Arts Award, the Utah Institute of Fine Arts Award in the Short Story, and the 2008 Smith-Pettit Foundation Award for Outstanding Contribution to Mormon Letters.
---
2010 Outstanding Achievement Award Winner: Rick Walton
---
The author of more than eighty books for children, Rick Walton has worked tirelessly for nearly two decades to make Utah a place where writers are born. As a board member and instructor for numerous writing conferences and workshops, plus his years as faculty at BYU teaching Picture Book Writing, Rick has made it his goal to help anyone he can who is interested in becoming a published author. And he does, mentoring budding authors though the publication process while remaining a cheerleader for us all.  He and his wife, Ann, live in Provo, Utah, and are the parents of five children.
---
2010 Lifetime Achievement Award Winner: Susan Evans McCloud
---
McCloud has published more than 45 books. Since the late 1970s she has published nearly one novel annually, many through the publishers Bookcraft or Scribe Publishing. Her novel Black Stars Over Mexico was a best seller in January 1985. Brigham Young: An Inspiring Personal Biography was partly developed as a result of her 30 years as a docent at the Beehive House.
Many of her novels are historical fiction of 19th-century Latter-day Saints in far-flung places, such as England or India. Some reviewers have criticized her novels as being pro-Mormon and repetitious of previous themes. McCloud's poetry first appeared in the Ensign magazine in 1972. Two of McCloud's hymns appear in the LDS Church's 1985 Hymnbook. One of these, "Lord I Would Follow Thee," has also been recorded by the Mormon Tabernacle Choir and it has even been called "one of the best-loved songs in the LDS Church."  McCloud wrote her other hymn, "As Zion's Youth in Latter Days," with the goal of giving strength to a "vacillating youth." McCloud has also written scripts for film and TV productions, including the script for making one of her books into a made for TV movie.
---
2009 Outstanding Achievement Award Winner, Dave Wolverton
---
---
2009 Lifetime Achievement Award Winner, Gerald Lund
---
---
2008 Outstanding Achievement Award Winner: Kerry Blair
---
---
2008 Lifetime Achievement Award Winner: Orson Scott Card
---
---
2007 Outstanding Achievement Award Winner: Anita Stansfield
---
---
2007 Outstanding Achievement Award Winner: Jennie Hansen
---
---
2007 Lifetime Achievement Award Winner: Dean Hughes
---